St. John Nursery and Primary School Rumuokwurusi
St. John's Nursery and Primary School was established on 2nd of February, 1982 by Rev. Fr. Thomas Brown. It started with eighty (80) pupils who include fifty (50) boys and thirty (30) girls. The first headmistress was Mrs. Florence Alonge (1982-1983). Others were:
Sr. Mary Amadi HHCJ (1983-1988)
Sr. Theresa Nwancha HHCJ (1988-1993)
Sr. Charity Nkwocha HHCJ (1993-1996)
Sr. Theresa Nwancha HHCJ (1996-1998)
Sr. Chinyere Rose Onuoha HHCJ (1998-1999)
Sr. Felicia Enechukwu HHCJ (1999-2004)
Sr. Patricia  Ngwuemo HHCJ (2004-2005)
Sr. Chinyere Rose Onuoha HHCJ (2005-2008)
St. John's Nursery/Primary School is registered and approved by the government. The Nursery school was approved on the 16th day of January, 1989, while the Primary school was approved on the 5th day of February, 2001. The school has her code as: RS/OB/2(1) A/106.
The motto of the school is: KEEP YOUR LIGHT BURNING.
Lhe pupils sat for their first, First School Leaving Certificate (FSLC) Examination in 1995.
JOHN`S SCHOOL PLEDGE
STAFF AND PARENTS
I PROMISE TO BE A GOOD CHILD.
TO LOVE GOD AND MY NEIGHBOURS
TO READ MY BOOK AND PASS EXAMS
TO BE NEAT ALWAYS
AND TO UP HOLD THE GOOD
NAME OF MY SCHOOL
SO HELP ME GOD
SONG
I have a word to say
About St. John`s Nursery
The school began: in 1982
All the boys were fifty
And the girls were thirty
Every teacher and scholar
Was always working hard
I ya hee, Iya he he he
I ya hee, Our School is the best (2X)
ST JOHN`S SCHOOL ANTHEM
Hail thee! St John`s School
My knowledge, my success stool
With pride, I lift thee so high,
A name so sweet, I will not deny.
(REFRAIN)
Hail St. John`s School
Hail my future tool;
Hail St John`s school
Citadel of knowledge and wisdom too.
A school for future stars
Founded by great masters
On a Solid Foundation
For Good and Sound Education
St John`s School known for near
By one and all that may care
To my heart than art so dear
Never of thee will I snare
The Ivory of morals
The tower of discipline
The buffer (booster) of  my Morales
Great Academy of Excellence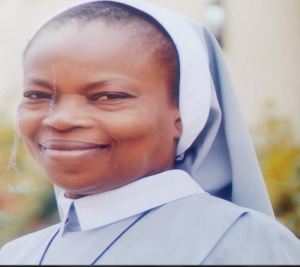 The Head Mistress, Rev Sr Margaret Mary Ibeh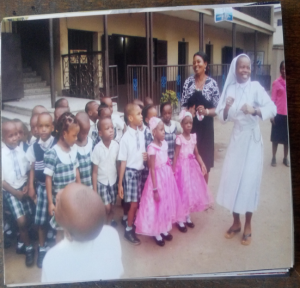 Nursery 1 Marking the Birthday of  twin Sisters with HM.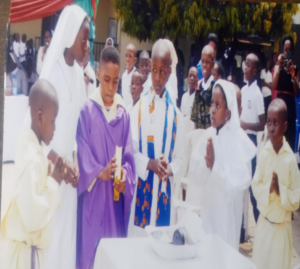 Pupils on Career display. Here the boys playing the role  Priests, their Mass servers and the Rev Sister look on.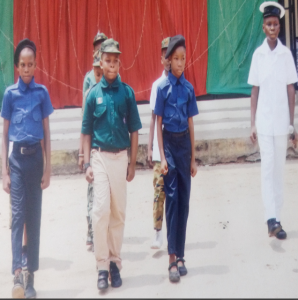 Still on career display. Pupils as force men, police, soldiers, civil defense etc on parade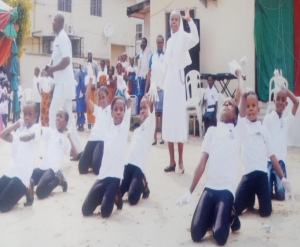 Pupils on dance display on graduation day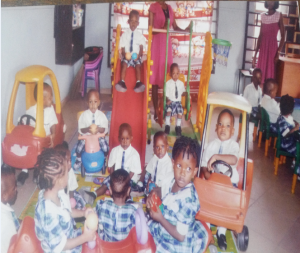 Pre- nursery section of the school in the class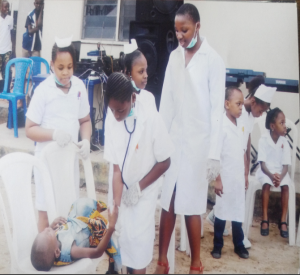 Pupils on career display as medical doctors and nurses attending to a patient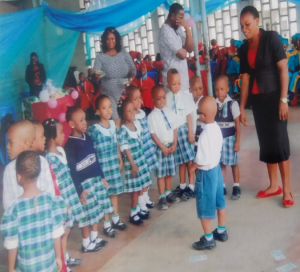 Pupils in prayer session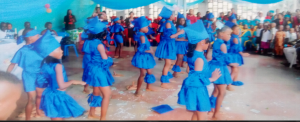 Pupils graduation day

Pupils on cultural dance display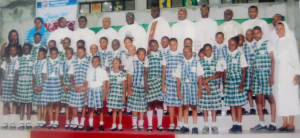 Snap shot with the Bishop, Education Director  Fr Kabari J, Fr Martin Amadi, Schools coordinator, Fr Henetu P Diocesan Coordinator, Head Mistress and other priests on all Catholic schools annual competitions at CIWA 2016.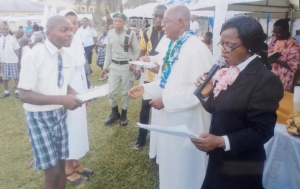 A student receiving an award for 1st position in academic competition, all catholic children's day.

Pupils on March past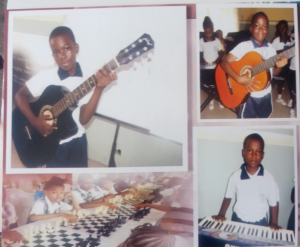 Pupils in music class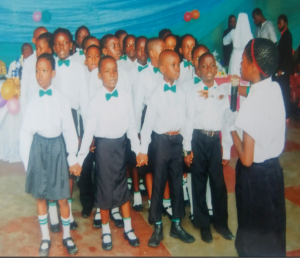 Pupils in for seminar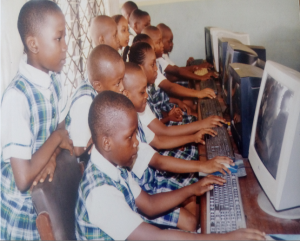 Pupils in computer class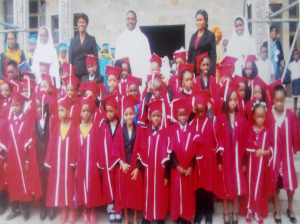 Pupils' choir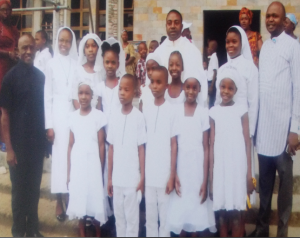 Pupils posing with the Parish Priest Fr. Martin Amadi  and parents after receiving the sacrament of Holy Communion June, 2017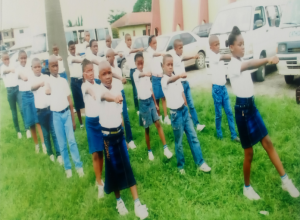 Pupils on excursion to RSTV, Port Harcourt